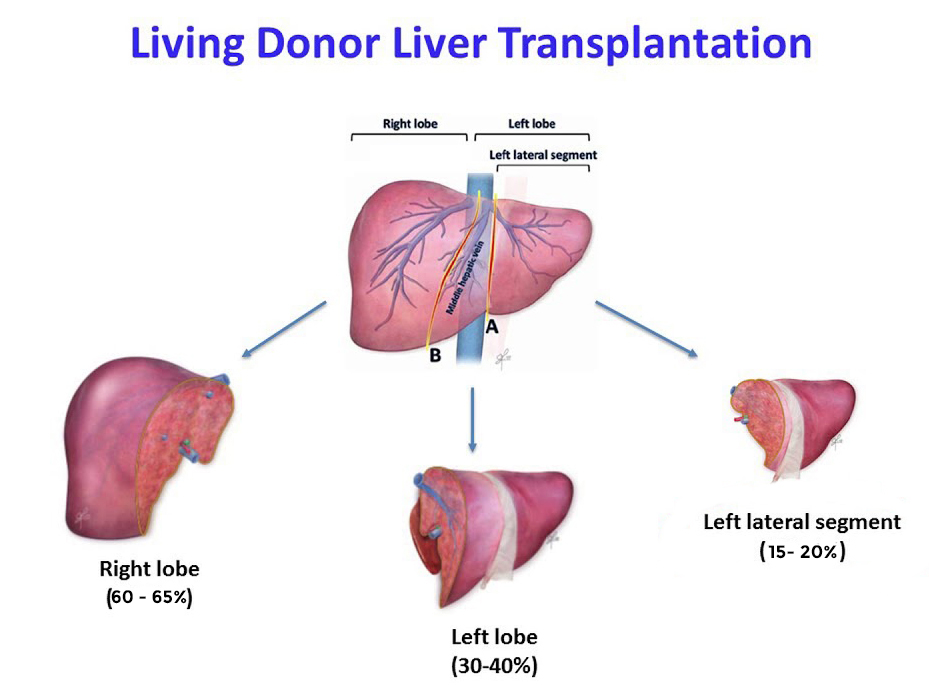 A successful liver transplant is life-saving for people with liver failure and there are thousands of people currently waiting to receive a liver transplant. Liver transplantation is a surgical procedure performed to remove a diseased or injured liver from one person and replace it with a portion of a healthy liver from another person, called the living donor. Since the liver is the only organ in the body able to regenerate or grow back, a transplanted segment of a liver can grow to normal size within a few months.   
What is living donor liver transplantation?
During a living-donor liver transplant, a portion of a healthy person's liver (the donor) is removed and transplanted into another person (the recipient) to replace their unhealthy liver. Both the donor's and recipient's liver will regrow in 2-3 months. Receiving a living-donor transplant reduces the amount of time a person needs to wait and the transplant surgery can be planned electively.
Are there any benefits of living donor liver transplantation?
As transplant can be done in the time it reduces the risk of the recipient's liver condition getting worse.
Typically results in quicker recovery time and improved long-term outcomes for the recipient because they're receiving a portion of a healthy person's liver.
Allows time for the donor, recipient, and caregivers to plan in advance of the operation.
Who can be a living liver donor?
A living donor must:
Be an adult 18 years or older Be in good physical and mental health Not be engaged in active drug or substance abuse
Have no history of certain health issues, such as:

liver disease, including cirrhosis and hepatitis
significant diseases involving other organs (lung, kidney, heart)
active, malignant cancers
certain infections, like HIV
Be able to understand the risks and benefits of living donation
Are there any risks to the living donor?
Yes, there are a few risks but if the surgery is done by experienced teams the risks are minimal.
Allergic reaction to anesthesia
Bile leak
Infection
Blood clots
Bleeding
How much of the liver will be removed during living donor surgery?
The percentage of your liver that is removed will depend upon the age and size of the person receiving the transplant. If you donate to an adult, about 50 to 60 percent – or a little over half of your liver – will be removed. If you donate to a child, about 25 percent – or a quarter of your liver – will be removed. The liver regenerates, or grows back, to full size for both you and the recipient in approximately two to three months.
How is the living donor surgery carried out?
The entire liver donor operation takes about five to seven hours. The entire surgery is carried out while putting you to sleep(general anesthesia). During the surgery, you and the recipient are placed in nearby operating rooms. Each of you has your own dedicated transplant team. Once you're under general anesthesia, the surgeon makes an abdominal incision to remove the portion of your liver that's needed, based on the size of the recipient. After your surgery begins, another team of surgeons starts to operate on the transplant recipient, removing their entire diseased or injured liver and replacing it with the donated portion of your healthy liver.
Several tubes will be placed in your body to help it carry out certain functions during the operation and up to a few days afterward. These include a breathing tube, intravenous lines to provide fluids and medications, a catheter to drain urine from your bladder, and other tubes that allow fluids to drain from your abdomen during the postoperative healing period.
How is the recovery process post-living donation?
The hospital stay is usually 5-7 days. You will then recuperate at home. Most donors get completely normal within 1 month. Every person recovers from surgery at a different pace. Some donors get back to their lives quickly, while others feel tired for quite some time after donation.
Are there any medicines needed for the living donors?
While you're in the hospital you'll receive some routine postoperative medications, along with medicine to manage your pain. You may need medication after leaving the hospital for a limited time. There are no special medicines that need to be taken long-term after donation.
Are there any long-term effects of living donation?
No there are no long-term effects post-living liver donation.